DC/Marvel: Age of Infinite Heroes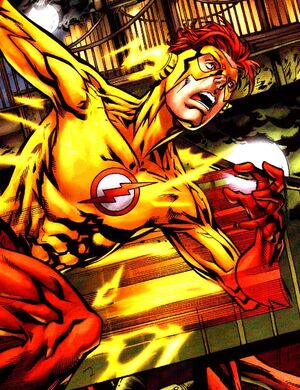 Name
Bartholomew "Bart" Allen II
Codename
Kid Flash
Species
Metahuman
Age
3 (16)
Affiliation
Titans, Speedsters
Powers/Abilities



Superhuman Speed
Superhuman Stamina
Superhuman Durability
Photographic Memory
Speed Force Clones
Complete Self-Molecular Control
Time and Dimensional Travel
Resistance to Temporal Disruptions

Kid Flash a.k.a. Bart Allen attends Keystone High School, giving his teacher's fit. Formerly known as Impulse, he is the side-kick of The Flash, a member of the Titans and currently lives with Jay Garrick in Keystone City.
Background
Personality
Logs
2012-07-12 - Paying the Songbird - A text message from Kendra, draws her and Roy together for a late lunch. However, there is a price to pay when you taunt the songbird.
2012-09-04 - Pleeeease Roy - Roy is forced to make up with Conner. Kara has another superpower - super-pouting and a sexy 'pleeeease?' Poor Roy.