DC/Marvel: Age of Infinite Heroes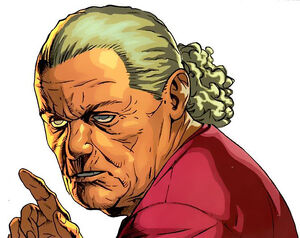 Name
Unknown
Codename
Mother
Species
Unknown
Age
90s
Affiliation
Fantomex, Lady Fantomex,
X-Force (Formerly),
Weapon Plus (Formerly)
Powers/Abilities



Visions (via Dreams)
Telepathy Resistant

Heightened Senses (Blind)
Sixth Sense

Sense Presence
Sense Undercurrents

Genetic Scientist
Master Manipulator

Mother is said to be Fantomex's and Lady Fantomex's mother. Her name, age, history, and all is even more mysterious than her so-called offsprings'.
Background
Edit
Became a powerful scientist, a mover and shaker of Weapon Plus along with Father and Brother.
During the Cold War, as a member of the British division, she worked on project Descendant.
She released a successful batch into the world to see if they can survive on her own without consulting Father and Brother.
She later participated in the founding of the Weapon XIII project. She soon disappeared after she knew it was a success.
She has been off-grid from Weapon Plus since then, though they have been keeping an eye out for her. She knows more than she will ever let on.
Personality
Edit
{Personality goes here.}